Are you looking to spruce up your outdoor living area? Decorating a patio table is an easy and fun way to brighten up any patio! Here are some tips on how to decorate a patio table.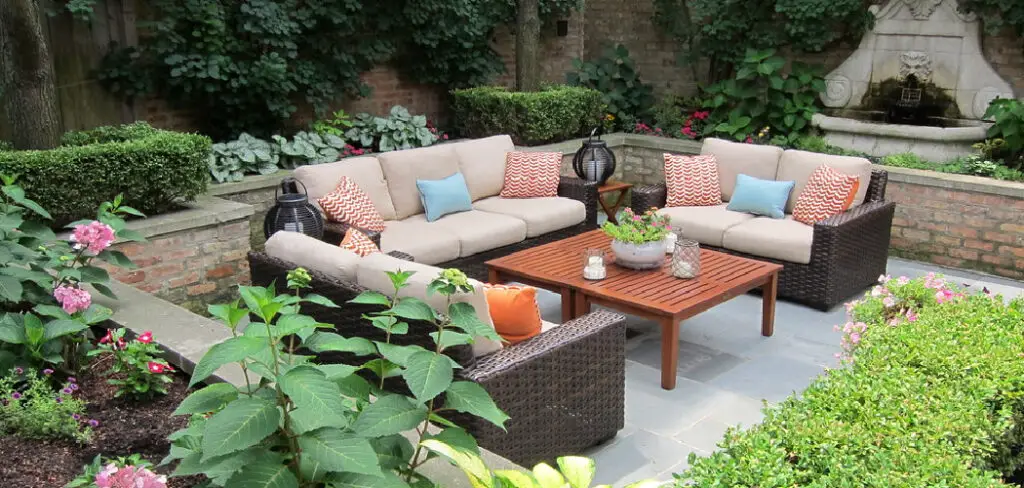 Summer is finally here; what better way to celebrate than by taking the party outside? Creating a beautiful outdoor space can be easy and inexpensive with a few simple touches. Decorating your patio table doesn't need to take months of planning or break the budget. Making it inviting, stylish and comfortable for family and friends will surely ensure treasured memories all summer long.
In this blog post, I'll show you how to put together some simple items that will transform any patio or outdoor table into a memorable work of art!
What Will You Need?
Before you start, ensure you have all the materials and tools necessary for the project. Here's a basic list of items that you'll need:
Patio table
Paint (acrylic or water-based)
Brushes and sponges
Outdoor-friendly fabrics in coordinating colors
Decorative items such as shells, plants, or candles
Mod Podge or other clear sealants
Once you have all the materials and tools, you're ready to get started!
10 Easy Steps on How to Decorate a Patio Table
Step 1. Clean the Table Surface:
Before starting any project, it's important to ensure that the surface is clean and free of dirt and debris. Use a mild soap and water solution or an all-purpose cleaner to wipe down the patio table. Be careful not to scratch the surface of the table.
Step 2. Prime the Table:
Priming your patio table ensures that the paint adheres better and lasts longer. Be sure to use a primer designed for outdoor use so that it stands up against the elements. Depending on how you plan to paint the table, you can use a brush or spray primer.
Step 3. Paint the Table:
Once your table is primed, you can begin to paint! Using acrylic paints in coordinating colors, apply two coats for the best coverage. Let each coat dry before adding another one for the best results. Use painter's tape and newspaper to create patterns or stripes on the table if desired.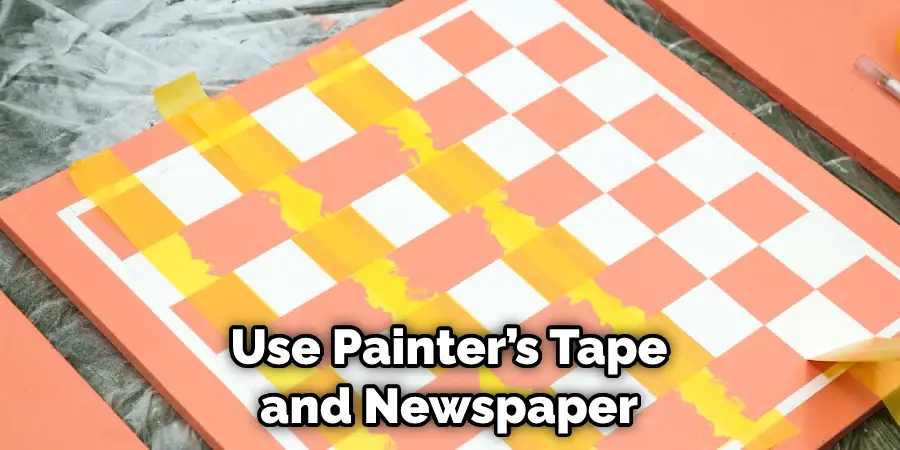 Step 4. Add Decorative Details:
Now it's time to have some fun and add in your decorative touches! Choose fabrics, shells, plants or candles that go with the colors you used for painting the table. For example, if you painted the table a bright blue color, choose yellow accents such as lemon slices or daisies for contrast.
Step 5. Seal the Table:
Once all your decorations are in place, it's time to seal the table to ensure everything stays put. Use a clear sealant such as Mod Podge or a polyurethane spray designed for outdoor use. This will protect your patio piece from fading or chipping over time.
Step 6. Apply the Finishing Touches:
Once the sealant is dry, and all of your decorations are in place, it's time to add the finishing touches. Add a few throw pillows or cushions in coordinating colors for extra comfort. You can also hang a wind chime or some twinkling solar lights to create an inviting atmosphere.
Step 7. Try Different Arrangements:
Don't be afraid to experiment with different arrangements and decorations until you find the perfect look. Move around the items until they look just how you want them. Remember that there is no right or wrong way to decorate a patio table – it's all about personal preference and creativity!
Step 8. Enjoy the Results:
Once you have finished your project, enjoy it! Invite family and friends over for an outdoor gathering, or take some time for yourself to relax in your newly decorated space. Your hard work will surely add style, beauty, and pleasure to any outdoor area.
Step 9. Maintenance:
To keep your patio table looking great, ensure it is well-maintained. Regularly wipe down the surface with a mild cleaner and reapply the sealant when necessary. This way, your table will stay looking beautiful for years to come!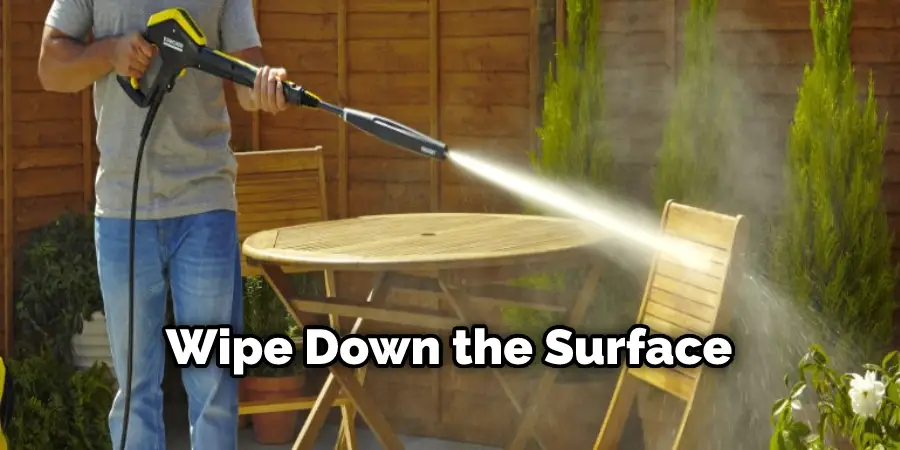 Step 10. Have Fun:
Most importantly, have fun while decorating your patio table! Be creative and allow yourself to get lost in how the pieces look together. Enjoy the process of bringing your vision to life – that's what it's all about! Don't forget to take pictures of your beautiful creation when you're done!
By following these simple steps, you'll be able to transform any outdoor space into an inviting area full of memories and beauty. Now go out there and make some summertime magic happen!
5 Additional Tips and Tricks
1. Choose a Theme. A theme will help you determine how to decorate your patio table and how to accessorize it with other items around your patio.
2. Use Outdoor-friendly Fabrics. Decorate your table with fabric that is made for outdoor use so that it won't fade or deteriorate in the weather.
3. Choose the Right Centerpiece. Make sure that you select a centerpiece that will not be easily knocked over by animals or children playing in your yard.
4. Use Outdoor Lighting. Add lamps or string lights to create an inviting atmosphere and light up your patio table at night.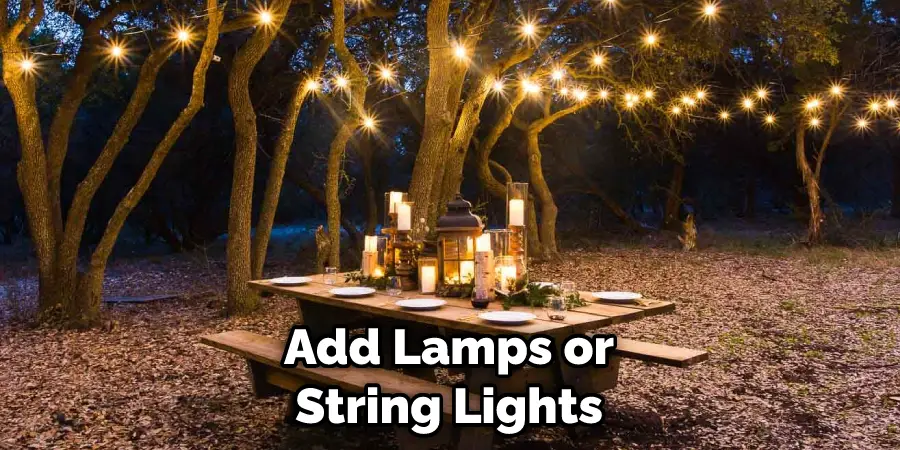 5. Keep It Simple. Decorating your patio table doesn't have to be complicated. Simple decorations like flower centerpieces or candles can make a big impact.
These tips and tricks will help you create the perfect patio table for your outdoor space. With some imagination, you can turn an ordinary patio table into something extraordinary!
5 Different Styles to Decorate a Patio Table
There are many different ways to decorate a patio table. Whether you want to add color, texture, and interest or create a more subtle look, there are plenty of options for sprucing up your outdoor area with just the right touches. Here are some ideas on how to decorate a patio table to suit your style:
1. Colorful Bohemian: Bring bright colors and eclectic prints together for a vibrant and unique look. Decorate with a patterned rug, colorful throw pillows, potted plants, and bright candle holders.
2. Rustic Chic: Create an inviting atmosphere with rustic elements such as woven baskets, wooden serving trays, and weathered planters. Add distressed accents like mason jars or rusted lanterns for extra charm.
3. Tropical Paradise: Embrace the summer vibes with tropical-inspired decorations like outdoor-safe tiki torches, beach towels on the chairs, or pineapple-shaped drink coasters.
4. Minimalist: Keep it simple with a few well-placed accents like geometric sculptures or minimalistic plants. Let the beauty of the table shine without any over-the-top decorations.
5. Natural Neutrals: Create an earthy and organic atmosphere with neutral shades and natural materials such as stone, wicker, jute, and rattan. Add accents of greenery for a refreshing touch.
No matter how you decide to decorate your patio table, make sure that it reflects your personality and style! With these five ideas, you can create the perfect outdoor oasis. Have fun, and enjoy the process!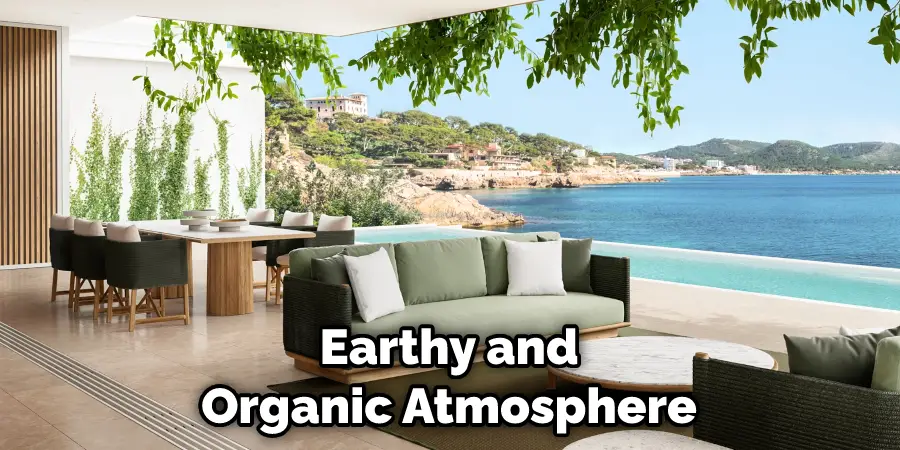 5 Things You Should Avoid
Avoid putting anything that is not weather-resistant on your patio table. Items like books, paper, and electronics can get destroyed easily in the elements, so make sure everything you use is suitable for outdoor use.
Don't forget to check how durable items are before placing them outdoors. Natural materials such as wood or wicker can be damaged quickly by water, sunlight, or pests if not treated properly.
Avoid overcrowding your table with too many decorations. Choose a few statement pieces that will stand out without taking up too much space on the table's surface.
Remember to keep accessories away from open flames or any other heat sources that may start a fire hazard or burn your decorations.
Don't forget to keep your decorations clean and well-maintained. This will help ensure that they last longer and aren't ruined by the elements.
Following these five tips can help you create a beautiful patio table that is both stylish and safe! With some creativity and these ideas, you are sure to make the perfect outdoor decor for your home. Enjoy!
Conclusion
Decorating your patio table doesn't have to be an expensive or complicated task. Taking a little time to think about the type of decorations you want and putting some thought into how you would like your patio table to look can make a huge difference in creating a pleasing and inviting space. Whether you choose to add plants, candles, or other intricate details, adding simple touches like these can make a big impact in transforming your outdoor space into something unique and beautiful.
Remember, the best way to transform any outdoor area is with creativity and vision, so don't be intimidated by the idea of decorating your patio table – just get creative, have fun, and let your personal style shine!
Hopefully, the article on how to decorate a patio table has been helpful, and you now have some great ideas for how to make your outdoor space look amazing. Good luck!
You Can Check It Out to How to Cover a Lattice Patio Cover