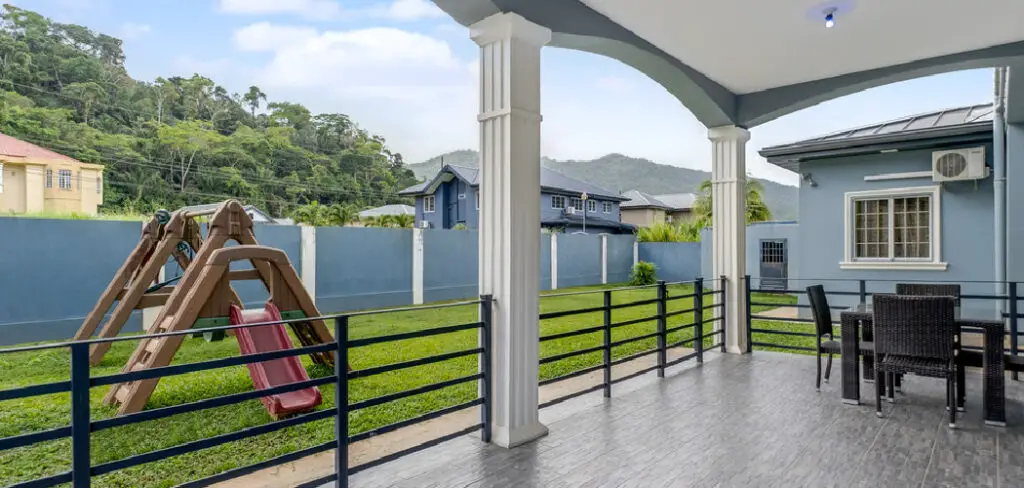 Do you want to create a private outdoor living space in your backyard? Enclosing your patio is the perfect solution for enjoying some solitude without ever having to leave the comfort of your home.
Not only does enclose your patio provides privacy, but it also serves as an effective barrier that keeps out extreme weather elements like wind and rain.
This tutorial will guide you through step-by-step instructions on how to enclose a patio with materials such as lumber, metal frames, glass panes, and more — while providing useful tips along the way! Read on to learn how you can use these easy DIY techniques to successfully enclose any type of patio or deck area in no time.
Why Enclosed Patio is Important?
Enclosing a patio offers a plethora of benefits. Not only will it help keep out pests and other unwanted critters, but it can also provide shade from the sun or protection from wind and rain. It is also an effective way to create a private outdoor living space for you and your family to enjoy without worrying about prying eyes.
Lastly, enclosing your patio can add to the overall aesthetic of your home and increase its value.
Can You Do It?
Yes! You can enclose your patio by using materials such as wood, metal frames, or even glass panes. Depending on the size and shape of your patio, you may need to purchase additional supplies, such as screws, hinges, nails, etc., in order to properly construct a sturdy frame that will securely keep out any unwanted elements.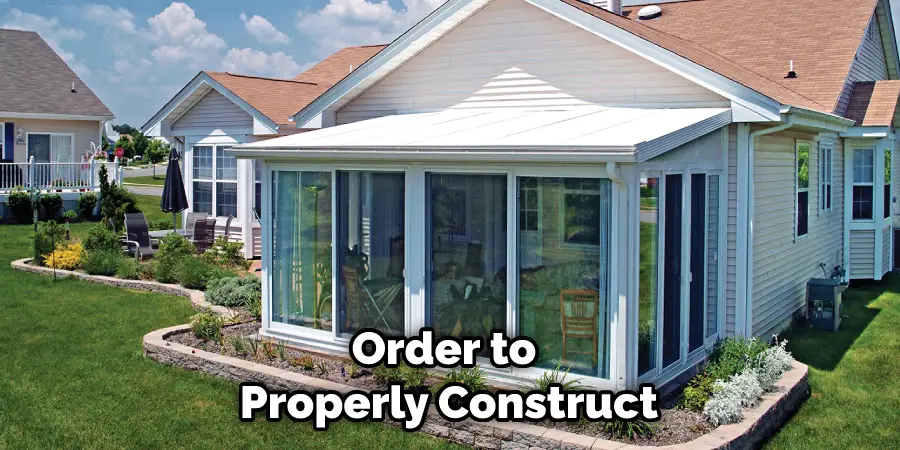 Keep in mind that the more secure and sturdy your frame is, the better it will be for inclosing a patio.
Materials Needed for Patio Enclosure
You will need some materials to complete it. The supplies are:
Lumber: Use treated lumber for a durable, long-lasting enclosure.
Metal frames: Choose frames that are strong and rustproof.
Glass panes: Look for tempered glass or acrylic to ensure shatter resistance and improved insulation.
Screws, nails, and other hardware: This will depend on the specific materials you choose for your enclosure.
Weather-resistant sealant: This will help protect the wood and other materials from moisture damage.
10 Steps on How to Enclose a Patio
Step 1: Measurement
Measure your patio area accurately. It will help to draw a diagram of your patio space and note the measurements. Remember to measure the width and length of your patio, as well as the height of your enclosure.
Step 2: Prepare The Area
Clear out any debris or large rocks from the area around your patio. Ensure that there is a level base for your structure to sit on so that it remains stable. Otherwise, it won't be able to support your enclosing structure.
Step 3: Begin Framing
Start framing the perimeter of your patio using your chosen lumber and hardware. Make sure that the frames fit together snugly without gaps or overlaps, as this will ensure a sturdy enclosure.
Step 4: Add Glass Panes
Secure the glass panes to the frames. These will be used as your walls and should be installed tightly in order to prevent any gaps from forming.
Step 5: Install Doors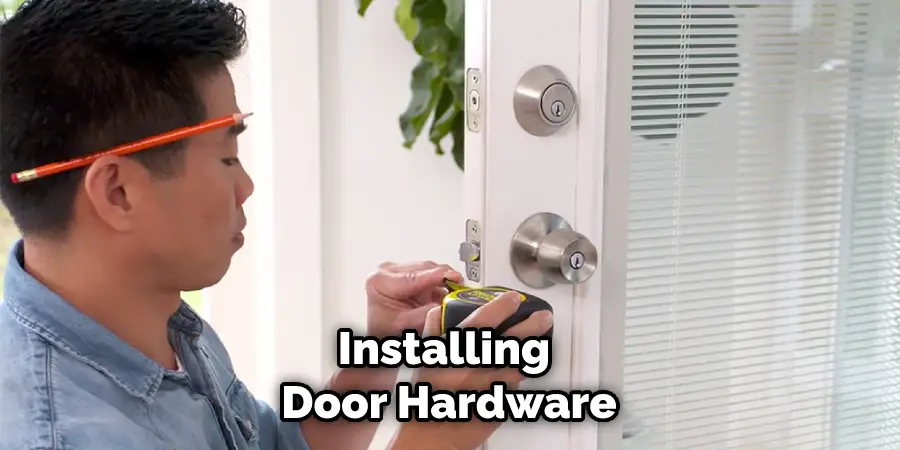 Measure and mark where you want your doors to go. Cut out the holes for them so that they fit snugly in their respective frames. Installing door hardware and locks will also ensure that your enclosure remains secure.
Step 6: Seal the Edges
Apply a weather-resistant sealant to the edges of your frames and glass panes to keep out moisture, insects, and other elements from entering your patio area. It will also help protect the wood from rot and decay.
Step 7: Paint or Stain
If desired, you can paint or stain your frames for a more polished look. This will also help to extend the life of your enclosure by preventing moisture damage and warping over time. It will lock in the sealant and keep it from fading.
Step 8: Add Finishing Touches
To complete your enclosure, add finishing touches such as curtains, trellises, and lights. These will enhance the look of your patio while also providing extra privacy.
Step 9: Check for Gaps
Check that all gaps between the frames and glass panes are filled in. If there are any, fill them with caulk or foam insulation for a better seal.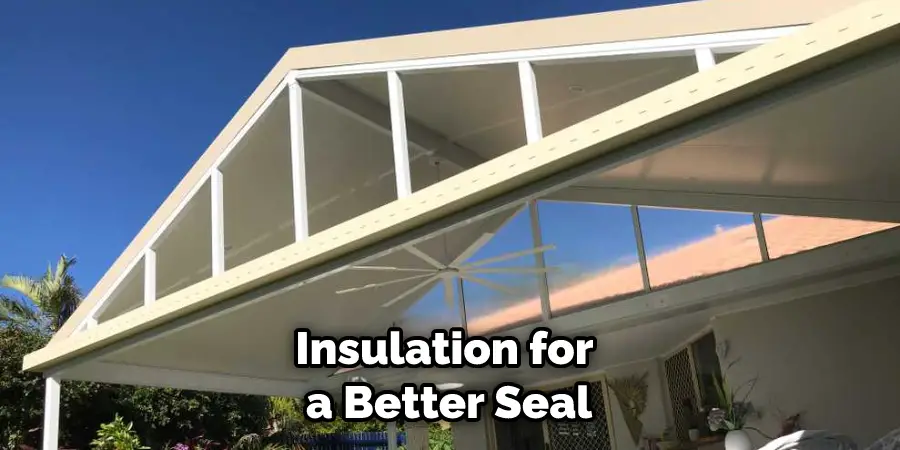 Step 10: Enjoy!
Your patio is now complete and ready to be enjoyed. Whether you plan on relaxing in your private outdoor space or having friends over for an al fresco dinner, you can rest assured that your patio is secure and well-protected.
10 Safety Measures on How to enclose a Patio
Make sure the enclosure fits with any existing building codes in your area. If you don't, it won't pass inspection, and you'll have to start over.
Check to make sure the area is free of any utility lines or other potential hazards that could be damaged during construction. Remember to call 811 to have any lines marked before beginning work.
Identify the best materials for the job. The type of enclosure you choose is largely determined by the area's climate and weather conditions, as well as personal preference.
Calculate the amount of material needed for your project and purchase it from your local home improvement store.
Install the posts and supports for the walls of your enclosure. Make sure they are level and secure to provide stability and strength to your enclosure.
Attach the wall panels using screws or nails, depending on what type of material you choose. Materials are usually pre-cut and ready to install.
Verify that all posts are level, plumbed, and securely attached before attaching the roof panels. Checking is essential to make sure your roof is properly supported.
Install the roof panels, making sure they are securely attached. Consider adding a waterproofing layer beneath them to protect against water damage.
Add any additional features, such as windows or doors, now that the enclosure is complete. Make sure they fit securely and won't become loose over time.
Have a professional inspect your enclosure to make sure it meets any local building codes and is up to code. This will ensure the safety of you and your family when using the patio.
Following these steps will help you enclose your patio safely and securely, creating a safe space for outdoor entertaining or relaxation.
You Can Check It Out to Keep Chickens Off Patio
Frequently Asked Questions
What Would Be the Cost of Enclosing a Patio?
Enclosing a patio can be an expensive project, depending on the size and materials you choose. It is important to budget accordingly by researching different types of materials and their costs, as well as obtaining quotes from contractors or other professionals that may need to be involved in the project.
Additionally, consider any permits you may need in order to start the project and the cost associated with them. By budgeting properly, you can make sure your patio enclosure is built safely and within your financial means.
The budget-friendly option is to do it yourself; however, if you are not experienced in home renovation, it would be best left to the professionals. But then you have to keep in mind the cost of labor and materials. All in all, inclosing a patio can be an expensive endeavor, so budgeting properly is key to staying within your means.
What is the Safe and Secure Way of Creating Patio Enclosure?
Enclosing a patio doesn't just improve its appearance – it also creates a safe and secure space for you and your family to enjoy. Consider adding features such as a gate, locks, and alarms to make sure your enclosure is secure. Additionally, consider installing lighting around the area for added security and visibility.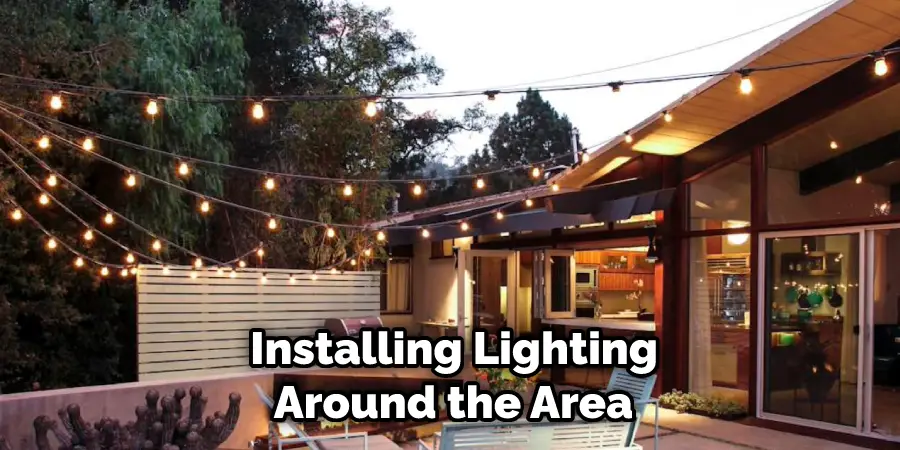 The added features will not only keep your family safe but also help you relax and enjoy your outdoor space.
These are just some of the tips to consider when enclosing a patio. With proper planning, budgeting, and safety measures, your patio can be transformed into an inviting and secure outdoor living space.
Conclusion
Closing your patio is a great way to increase the comfort and aesthetic appeal of your outdoor space. Whether you choose to fully enclose your patio yourself or hire a professional, you will be rewarded for your hard work with a delightful addition to your living space! 
Plus, you'll be able to enjoy the outdoors without dealing with inclement weather. Enjoying a beverage from an enclosed patio in the evening can be truly special and peaceful. Follow how to enclose a patio to do it rightly.
With careful examination and dedication, transforming an open area into an enclosed one can turn into an exciting task that results in far more enjoyable outdoor living areas.
A well-built patio enclosure can provide countless years of pleasure – all it takes is deciding which option suits you best and systematically pursuing that choice. 
If done correctly, there's no reason why your outdoor space can't become an oasis of relaxation and welcome solace – so now is the perfect time to start making progress on improving the look, useability, and convenience of your home. Enjoy!
You Can Check It Out to Enclose Your Patio for the Winter