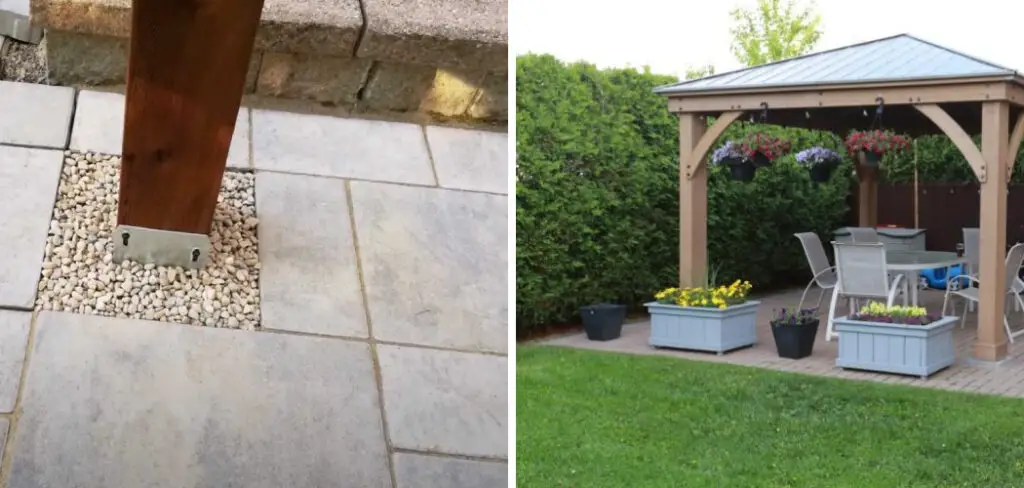 Are you looking to secure your gazebo so it won't blow away in the wind? Anchoring your gazebo to pavers is an effective way to do just that.
Anchoring a gazebo to pavers is one of the best ways to safely secure it in place without damaging the delicate surface underneath.
Not only does anchoring help ensure your structure remains secure, but adding some flair to your outdoor space with unique decorating items that can be anchored onto the surfaces of your patio or walkway can also bring a new level of beauty and charm.
In this blog post, we'll discuss how to anchor gazebo to pavers and offer advice on other creative ways you could use these sturdy anchors — from making functional hanging planters for flowers and herbs to fancy chandeliers made from reused items. So let's get started!
What are the Benefits of Anchoring the Gazebo to Pavers?
The first step in anchoring a gazebo to pavers is understanding the benefits of doing so. Anchoring your gazebo to pavers ensures that your structure stays secure in the face of strong winds and storms. It also helps to prevent it from moving or tipping over and reduce any damage that could be caused by direct contact with the ground itself.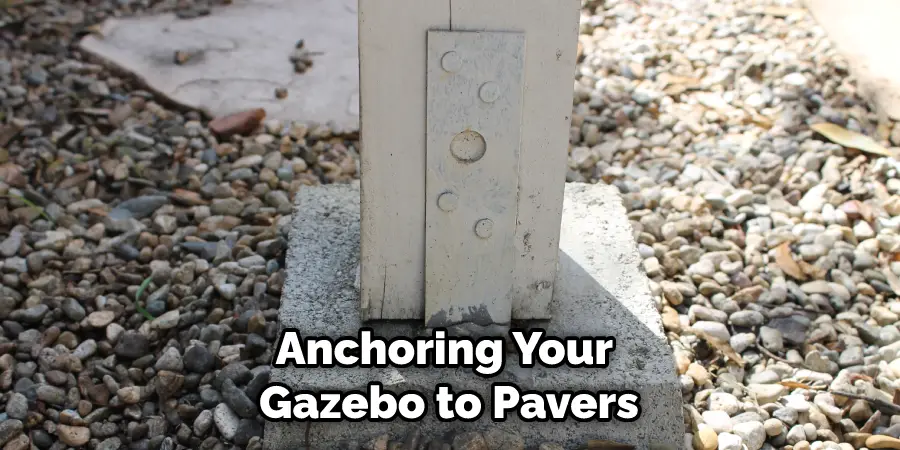 Additionally, anchoring a gazebo to pavers can give it extra stability when high foot traffic is expected — such as during parties or large family gatherings.
What Will You Need?
Before you start the process of how to anchor a gazebo to pavers, make sure you have everything you need. This includes:
Safety glasses
Hammer drill and masonry bit
Masonry screws (long enough for your application)
Level
Chalk line
Silicone caulk
Once you have all the materials, you can proceed with how to anchor a gazebo to the pavers.
10 Easy Steps on How to Anchor Gazebo to Pavers
Step 1: Prepare the Surface
Use a shop vacuum to remove any debris or dirt from the surface to have a clean and level foundation. Special masonry vacuums are available designed to work on hard surfaces. You can also use a stiff-bristled brush to remove any stubborn dirt.
Step 2: Mark the Surface
Use a chalk line and level to mark out where you want your anchor points. Make sure that the lines are even and straight for an aesthetically pleasing finish. If you are unsure how to place the anchors, consult an expert to get the best advice.
Step 3: Drill Holes in The Paver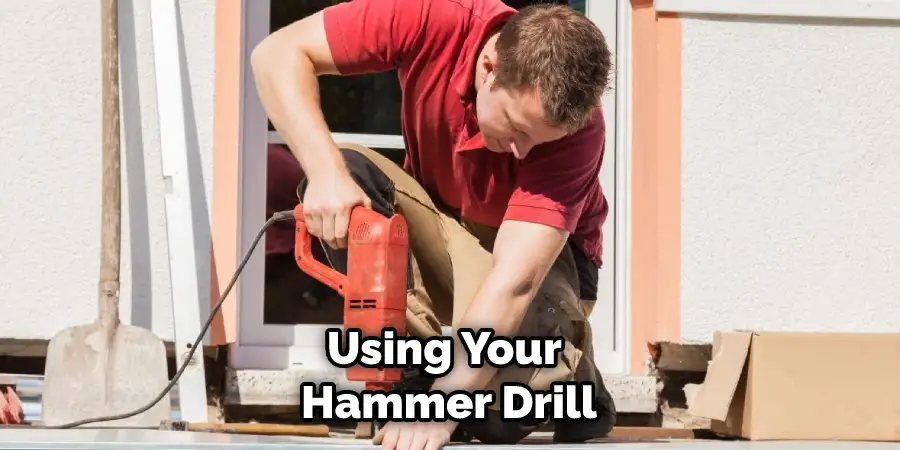 Using your hammer drill and masonry bit, create holes at the anchor points you marked out earlier. Make sure that the holes are deep enough for your screws — typically, two inches should suffice. Be sure to wear safety glasses during this process.
Step 4: Insert Masonry Screws
Insert the masonry screws through the gazebo into the holes you just drilled on the pavers. Tighten them securely so that they stay firmly in place. Be careful not to over-tighten the screws, as this could damage the pavers.
Step 5: Add Foam Washers
Add foam washers over the masonry screws for extra protection against weather conditions. These will also help to keep your gazebo securely in place. You can use a rubber mallet to tap the washers into place.
Step 6: Seal Any Gaps Around The Anchors
Use silicone caulk to seal any gaps between the anchors and the pavers. This will ensure that moisture cannot enter and cause damage or corrosion to your gazebo or patio area. Allow it to dry completely before you move on to the next step.
Step 7: Test For Stability
Once all of the pieces are in place, test how stable your gazebo is. You can do this by gently shaking it to see how much movement there is — if it feels secure, then your anchor points are doing their job, and you're ready to enjoy your outdoor space! Ensure that the gazebo is securely anchored before you use it.
Step 8: Admire Your Handiwork
Now that you know how to anchor a gazebo to pavers, take a step back and admire your hard work. With the right materials, anyone can learn how to properly anchor a gazebo and enjoy its beauty for years to come. Remember to check for stability every now and then to ensure that your gazebo is secure.
Step 9: Get Creative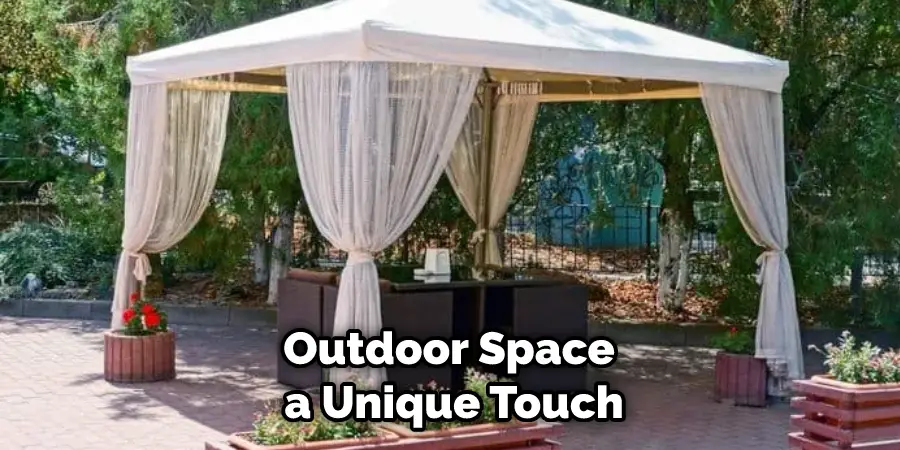 Don't be afraid to get creative with how you anchor your gazebo. If you want to add a decorative touch, use colored masonry screws and foam washers to give your outdoor space a unique touch. There are also special anchors that can be used to attach gazebos to wooden decks or patios.
Step 10: Enjoy Your Space
Now that you know how to anchor a gazebo to pavers, it's time to sit back and enjoy the fruits of your labor.
Invite friends and family for a backyard barbecue or just relax under the shade of your gazebo — whatever you decide, you'll be glad you took the time to learn how to anchor it securely!
By following these ten easy steps, you can properly anchor your gazebo to pavers and enjoy your outdoor space without worrying about it falling over. With the right materials and a bit of determination, anyone can learn how to anchor a gazebo to pavers. So get out there and start anchoring!
5 Additional Tips and Tricks
Before you anchor your gazebo, be sure to survey the area and level out any irregularities that could prevent a solid connection.
To ensure a secure hold, use construction adhesive along with screw anchors to help keep the gazebo firmly in place.
When selecting an appropriate screw for anchoring down your gazebo to pavers, look for ones that have hooks on them so they can easily latch onto the pavers without slipping off.
Consider using masonry screws for anchoring if you're working with concrete pavers instead of brick or stone ones.
Finally, it's important to use caution when tightening up your screws, as overdoing it can cause damage to the paver. Make sure to check how tight the screws are regularly and tighten them as needed.
By following these simple tips and tricks, you can safely anchor your gazebo to pavers without too much hassle! Good luck!
5 Things You Should Avoid
Don't use nails, screws, or bolts to secure the gazebo to the pavers—these can easily be torn out of the pavers.
Avoid using glue as an anchoring method. While this may seem a good idea initially, it's not designed to withstand long-term UV exposure and rain.
Don't ignore your local building codes. You must comply with all regulations to safely anchor your gazebo without risking it blowing away in a heavy wind.
Try not to tether the gazebo directly to grassy areas. The paver stones are much more stable and less likely to be moved in strong winds than grass is.
Don't skip the step of weighing down the gazebo. Even if you secure it properly, it's essential to add weight to the base to ensure it won't move in heavy winds.
With these tips in mind, you should be able to safely and effectively anchor your gazebo onto pavers confidently! Good luck!
Can You Drill Anchors Into Pavers?
Yes, you can drill anchors into pavers. It is important to use the appropriate tools and materials for the job so that your gazebo is securely anchored in place.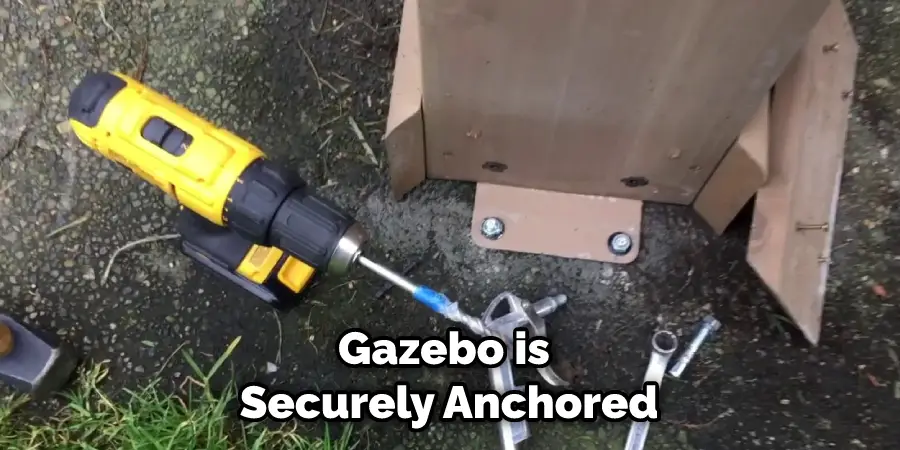 Anchors for pavers come in many shapes and sizes; however, the most common type of anchor used is a masonry screw or hook-style anchor. Masonry screws are designed to be drilled into brick or stone and feature hooks on their threads which latch onto the paver surface.
Hook-style anchors feature an eyelet at one end with a hook on the other to secure it into place.
Whichever type of anchor you use, pre-drill small pilot holes before inserting the anchors to ensure a secure hold. Good luck and happy anchoring!
Conclusion
To conclude, when done correctly, anchoring a gazebo to pavers is a simple process. Safety should always come first when dealing with any construction project; installing a gazebo is no exception. Be sure to research the exact measurements of your gazebo and adjust accordingly before purchasing important pieces like the anchors.
With enough planning and preparation, you will have an outdoor gathering spot that your family and friends can enjoy for years to come. Once all the steps for anchoring have been completed and given time to settle, you can add accessories such as string lights or furniture in order to create a setting perfect for those get together.
Anchoring your gazebo with pavers is one of the best ways to ensure stability during changing weather conditions and holds up well over time!
Hopefully, the article on how to anchor gazebo to pavers has been helpful in educating you on how to secure your gazebo best. Thanks for reading.
You Can Check It Out to Lay Pavers Around a Pool