Measuring patio door size can be a daunting task, especially if you are unsure of what measurements will best suit your home. You must know how to measure patio door size.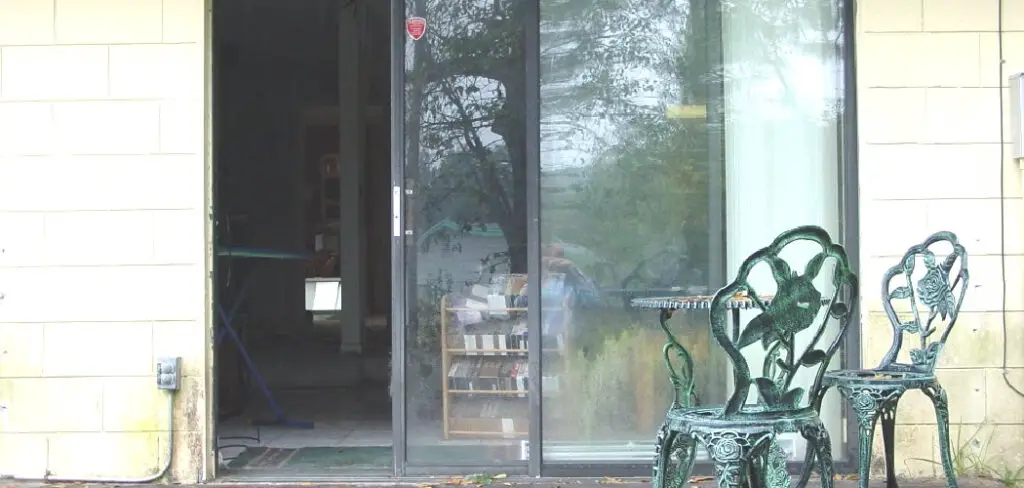 Whether you're looking to upgrade an existing door or install a brand new one, getting the right measurements is crucial for ensuring that it opens and closes properly. In this post, we'll go over the different methods you can use to accurately measure patio doors so that you get perfect results every time!
Tools You Will Need
Tape measure
Pencil and paper
Level
6 Steps Guide on How to Measure Patio Door Size
1. Take Measurements of the Opening:
Knowing the exact size of your patio door is an important step in buying a replacement. Most patio doors come in standard sizes, but if yours isn't one of them, you need to know your specific measurements. Measuring is easy; just take a measuring tape and get the height and width of the opening. 
You don't need to worry about jamb depths or sills; just measure from end to end where you'll mount the door. It's also vital to note whether you plan on having an in-swing or out-swing door type so that your new patio door will fit properly into the aperture once installed. 
Taking precise measurements ensures that the effort spent getting a custom-made patio door won't go to waste and sets you up with a perfect snug fit when it's time for installation.
2. Measurement of the Jamb:
Accurate measurement of a patio door is essential in ensuring that it fits properly and functions as expected. A jamb is the vertical side of the frame that holds a patio door in place.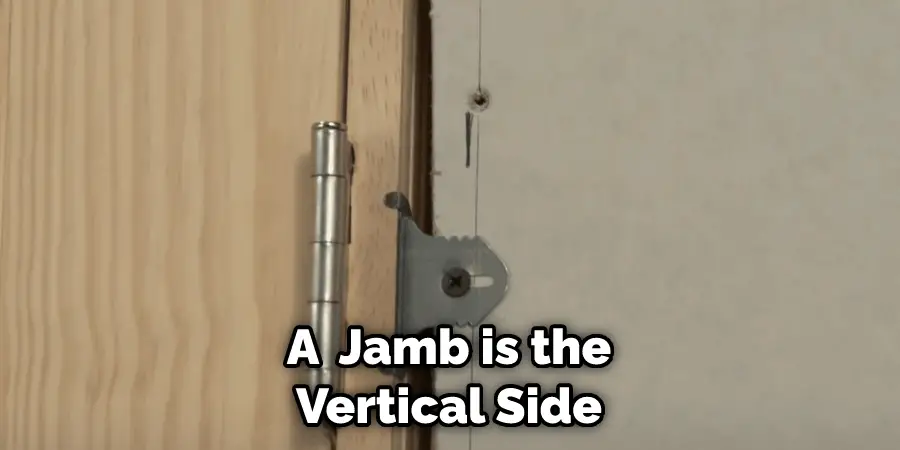 To measure a patio door's jamb, you need to measure the top, middle, and bottom of each side of the frame, as well as the span between them. This will provide accurate dimensions for ordering replacement doors or other supplies. 
It is also important to take measurements for any trim molding or decorative features that might impinge on your desired size and shape. With this data collected before purchase, you can confidently select materials that will fit and function optimally in their designated space.
3. Measurement of Rough Opening:
Measuring a rough opening for your patio door is essential if you want to get an accurate assessment of the space you have available. Whether you're replacing an existing patio door or starting from scratch, accurately measuring the opening beforehand allows for a much smoother installation process. 
Knowing the size of the doors beforehand is also beneficial in helping to choose what type of patio door best suits your needs. When measuring, be sure to measure width and height at both top and bottom positions, taking into account any ledge or slant present in the rough opening. 
And don't forget to check measurements from inside and out! With the proper measurement of your rough opening, you'll be well on your way to finding the perfect patio door for your home.
4. Measurement of Headers: 
The headers are above and below the door frame and should also be measured with your tape measure. Be sure to note down all measurements so that you have them for when ordering your door.
Knowing the size of your patio doors is essential for choosing the right replacement headers. That's why measuring is such an important step when you are considering changing out your patio door frames. This involves some careful measurements of height, width, and depth to ensure that you get the best fit and look possible.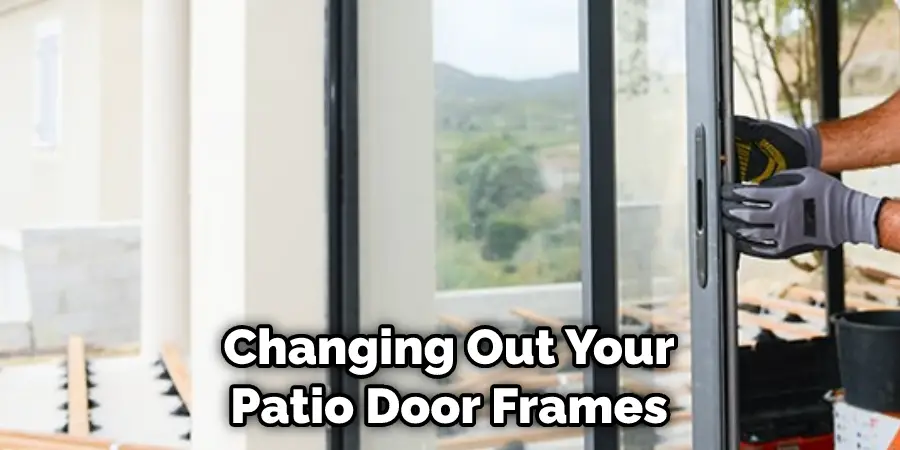 Armed with this knowledge, you can confidently purchase a replacement header that will give you years of worry-free service. Take time to do it right and save yourself time, money, and future headaches – measurement can mean all the difference.
5. Measurement of Trim: 
When installing a patio door, the trim is an important part of the process. Measuring correctly allows you to purchase the right size door for your space. 
To get the most accurate measurement from your trim, use either a steel tape measure or a carpenter's square. Start by measuring the width of the opening, taking into account any existing casing protruding from both sides – make sure that you note any raised edges. 
Measurement should always be taken using horizontal lines; vertical measurements are best ignored! Next, measure along the height of each side and across the top and bottom sections of your trim. 
Make sure to check for any discrepancies and unevenness in the wall structure when doing so. Once these measurements are marked down, you'll be able to find a patio door that will fit perfectly in your home.
6. Take All Measurements Into Account: 
Once you have all the measurements, you can now order your patio door. Be sure to take all the measurements into account when ordering so that it fits perfectly once installed!
When ordering any patio door, it is essential to take all necessary measurements into account. This helps to ensure that the new door will fit correctly and provide an attractive view from inside the home. Measurements should include width, length, as well as casement area — which may require additional, smaller lengths for correct sizing. 
Additionally, other factors to consider are locks, hinges, and hardware that can be impacted by this type of door. With proper measurements and all other requirements in place before ordering a patio door size, you can have confidence knowing your order will be perfect for your needs.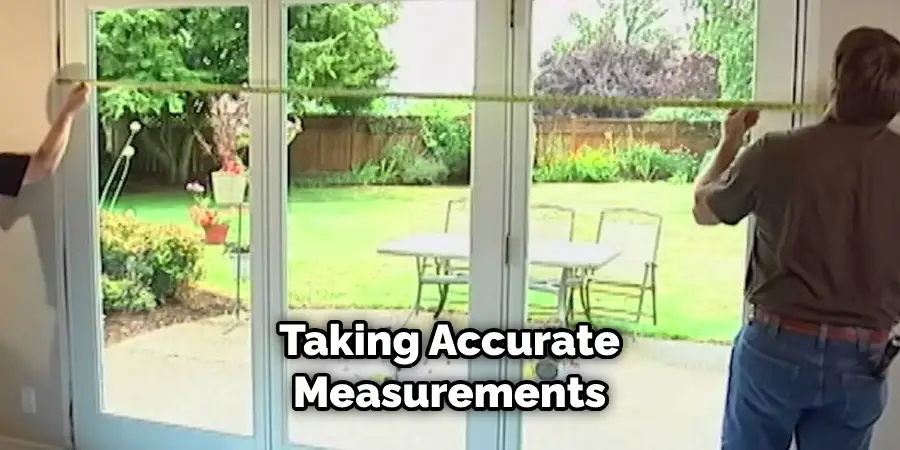 By following these steps and taking accurate measurements, you can be sure that your new patio door will fit perfectly in its opening. With these tips, you can get the right size the first time and enjoy the perfect patio door for years to come!
Tips to Measure Patio Door Size
Start by measuring the width of the opening.
Measure from the top of the opening to the bottom.
Measure the height of the door itself.
Measure the thickness of the door.
Determine the type of installation you need.
Choose a style of door that you like.
Make sure that the door is properly sized for the opening.
Install the door according to the manufacturer's instructions.
Enjoy your new patio door!
How to Avoid Common Pitfalls When Measuring Patio Doors?
When it comes to measuring patio doors, many home improvement novices make the mistake of relying solely on the manufacturer's advertised sizes. While these sizes are a good starting point, they do not always take into account hardware or trim. 
To ensure proper fitment, always measure doorway openings manually from framing stud to framing stud. Depending on the size of the doorway, it may be easier to use a measuring tape and note measurements before cutting or removing any existing doors. 
Furthermore, Double-check all measurements in multiple locations before committing to any purchase. Doing so can save you time, money, and frustration in the long run by making sure your patio door measurements are accurate and seamless.
How to Make Sure You're Ordering the Perfect Sized Patio Door
Shopping for a patio door that is the perfect size is important and requires good strategic planning. You first need to measure the space where your patio door will be installed. Make sure you have enough parameters including width and height so you know what specific measurements are needed. 
It's best to be extra thorough with measuring just in case there is any discrepancy when it's time to install the patio door. If applicable, know which direction the door needs to open since some single decorative doors may not have reversible hinges. 
Finally, check out the retailer's sizing options that may provide additional size alternatives or customization options. Making sure your patio door fits right will make all the difference in creating a stylish design space.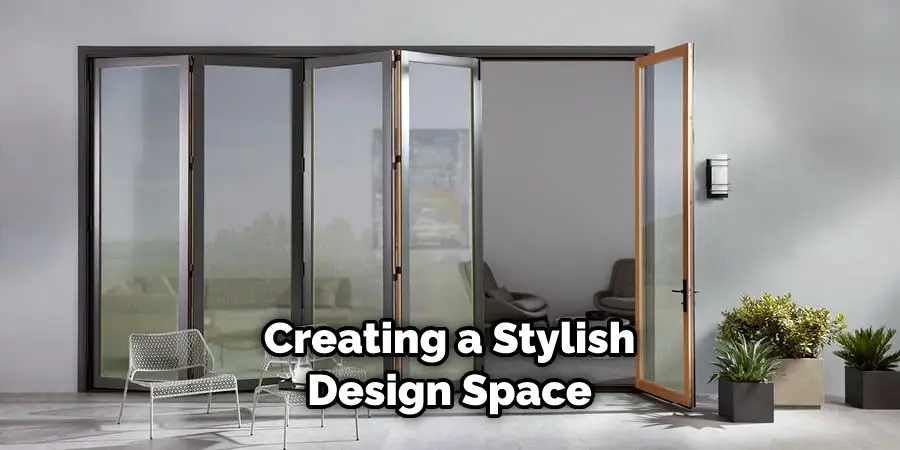 Everything You Need To Know About Choosing and Installing The Right Size of Patio Doors
Choosing the right size of patio doors for your home can be intimidating but with the right knowledge, it doesn't have to be. To start, measure the opening where you wish to install your patio door. Take into account nearby walls, any window jambs, and other obstacles that may encroach on the space. 
The height of a patio door should reach from floor level up to its finished head jamb, or two inches below it. The size of a patio door will typically range between 4-11 feet in width and 6-8 feet in height as standard sizes. However, larger openings can be customized if needed. 
Finally, before making a purchase, consider what window treatments and door hardware you want to accompany your new patio doors, such as blinds or shades, locks, or handles. With these factors in mind deciding upon your new patio door size shouldn't be too big a challenge!
Conclusion
You have several ways to measure patio door sizes. You should carefully determine how to measure patio door size. With a few careful measurements, you can find the perfect-sized patio doors for your home improvement project. 
Whether you're measuring the rough opening or taking finished measurements of an existing door frame, we hope this guide has given you the confidence to get out your tape measure and get started!
You Can Check It Out to Keep Patio Warm in Winter