Warm summer days, al fresco dinners, and afternoon naps in the sun – are you ready to make your outdoor living space come alive? Patio furniture can quickly go from a handful of scattered seats to a luxurious retreat with some careful planning.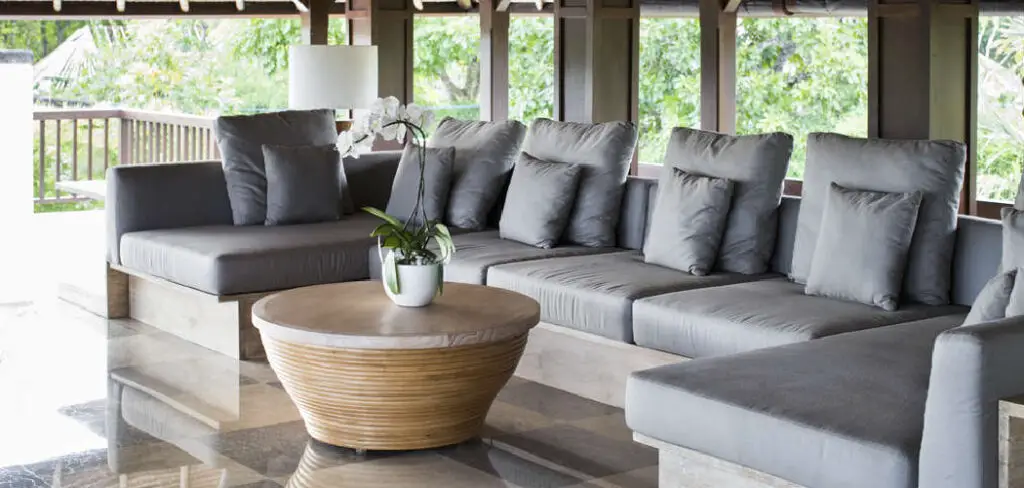 Mixing and matching patio furniture gives you endless possibilities for creating a cozy outdoor oasis that suits your unique style. 
You can make your patio furniture to complement the architecture of your home and bring a sense of harmony to your outdoor space.
With just a little knowledge about what's available and how to properly mix and match pieces, you'll find yourself designing an outdoor lounge area like an interior design guru! So let's get started – here are our top tips on how to mix and match patio furniture to craft the perfect backyard sanctuary.
Is It Important to Mix and Match Patio Furniture?
Yes! Mixing and matching your patio furniture can help create a sense of balance, flow, and style in your outdoor space. It allows you to pick pieces that work together synergistically – like puzzle pieces – without having to buy them all from the same store or collection. 
You can have fun mixing textures, colors, materials, shapes, sizes, and styles to create a unique outdoor area tailored specifically to your style and needs. You can have your own eclectic outdoor space that stands out from the crowd and makes your home look truly special.
Needed Tools and Supplies
When it comes to mixing and matching on patio furniture, there are some essential tools and supplies you'll need.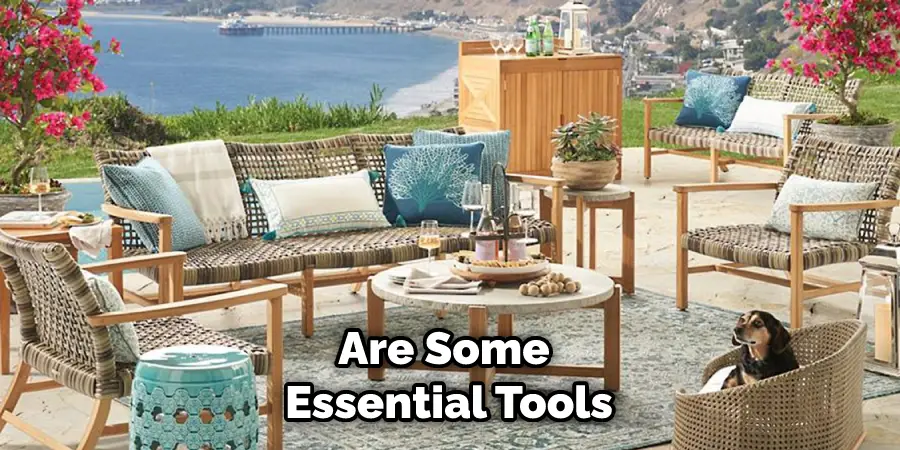 A measuring tape will make sure that each piece of furniture you choose fits in your outdoor space in the way you want.
Larger items may also require protective covers or tarps to keep them safe from the elements.
If you're looking for a more stylish approach, outdoor cushions and throw pillows can be great for adding color or texture to the area.
And finally, don't forget the lighting! String lights or lanterns can add ambiance and warmth to your outdoor lounge area.
11 Steps on How to Mix and Match Patio Furniture
Step 1: Choose Your Style
Before you start shopping, it's important to decide what kind of look you want for your outdoor lounge area. Identifying a particular style (e.g., modern, boho-chic, or beachy) will help guide the type of furniture and design elements you eventually choose. Choosing the theme of the patio beforehand will also help you determine how to mix and match pieces.
Step 2: Choose Your Color Scheme
Color can be a great way to add personality and style to your outdoor lounge area. When choosing colors, consider if you want to go with bold, vibrant tones or more subtle hues. These colors will then serve as the foundation for your furniture pieces and other design elements.
Step 3: Consider How to Group Your Furniture
Think about how you plan on using your patio furniture. Do you want a cozy seating area where people can gather or an open space to entertain? How many chairs and tables will fit comfortably in the room? Experiment with different furniture layouts to find the best arrangement.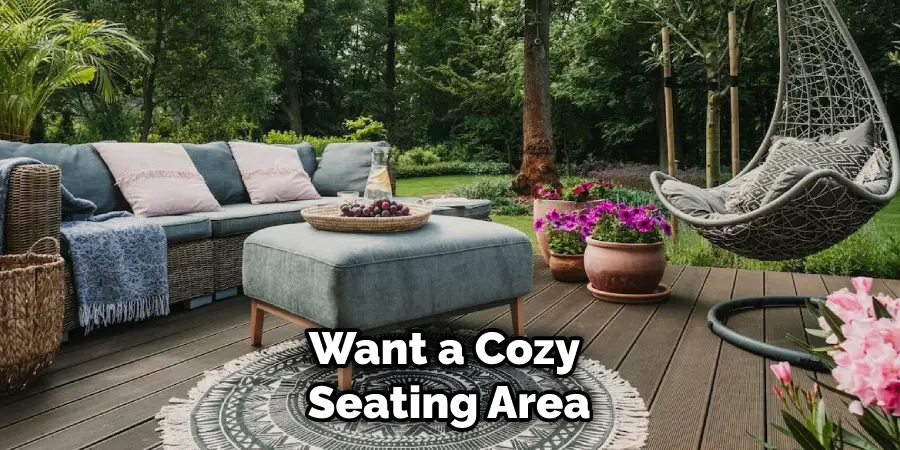 Step 4: Choose a Focal Point
Add an eye-catching piece of furniture for visual interest. This could be a bold outdoor armchair, an accent table, or a vibrant-colored rug. The focal point should serve as the center of your patio and set the tone for everything else.
Step 5: Add Visual Interest
Mix and match textures, materials, and colors to give the patio a layered look. Consider adding interesting elements like outdoor planters, a fire pit, or solar lights. You can also hang string lights for a festive feel. String lights are also an easy way to light up your patio at night.
Step 6: Bring in Greenery
Bring nature into the mix by adding plants or other natural elements. You can plant flowers, succulents, trees, and shrubs to create a lush green oasis. If you're short on space for planting, consider adding potted plants and window boxes.
Step 7: Create an Outdoor Kitchen
If you're looking to take your outdoor lounge area up a notch, consider setting up an outdoor kitchen. You can add a countertop, built-in grill, and mini fridge for the ultimate backyard entertaining experience. Don't forget to include a few stools or chairs to create an inviting atmosphere.
Step 8: Accessorize
Accessories can add the finishing touches to your outdoor lounge area and help pull everything together. Think of items like pillows, cushions, throws, and other decor pieces for a cozy feel. Don't be afraid to mix and match different patterns and colors to create a unique look.
Step 9: Add Seating
Seating is an essential part of any outdoor lounge area, so make sure you choose pieces that are comfortable and stylish. Consider adding a loveseat, chaise lounges, or Adirondack chairs for an inviting place to relax. These chairs should match the overall theme of your patio.
Step 10: Shop Around
The best way to mix and match patio furniture is to shop around for different pieces. Look for items at second-hand stores, online marketplaces, or specialty retailers. With a little patience and creativity, you can create a beautiful and unique outdoor lounge area that reflects your personal style.
Step 11: Invest in Quality Furniture
When it comes to patio furniture, quality is key. Look for durable pieces that are made from high-quality materials and can withstand the elements. Spending a little extra money upfront on good furniture will ensure your outdoor lounge area looks great for years to come.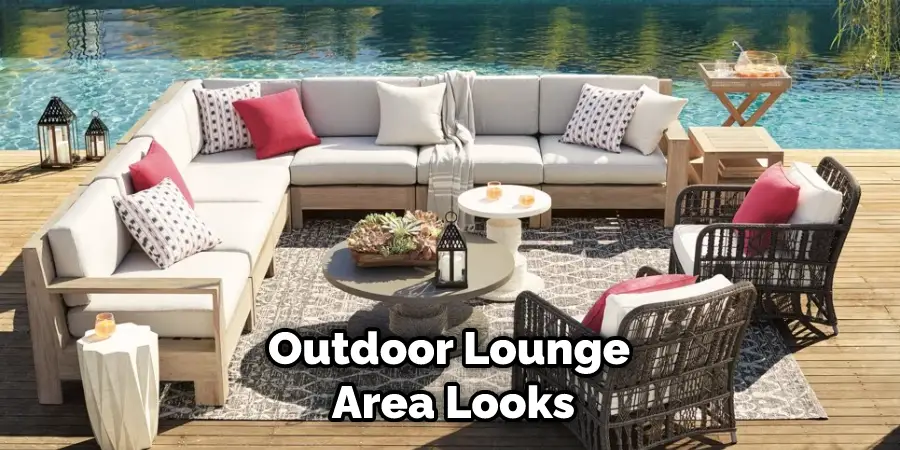 10 Safety Measures to Follow on How to Mix and Match Patio Furniture
Ensure that the furniture is on level ground or place a non-slip mat underneath it to prevent it from slipping and sliding. Non-slip mats will also protect the floor and furniture from dirt, dust, and other elements.
If you are mixing and matching outdoor furniture pieces made of different materials, make sure that the material used for each piece is similar in terms of durability to prevent one item from becoming weather-damaged more quickly than others.
Choose safety belts for chairs with arms if you are using them to entertain small children. These safety belts will make the chair more secure and prevent the kids from sliding off while they're playing.
Choose furniture with non-skid feet or place a non-skid pad underneath them in order to prevent accidents, as no one wants their guests to slip and fall.
Select furniture with a low center of gravity. This will make it less likely to topple over if someone accidentally bumps into it or leans on it too heavily.
Add graffiti-proof paint to any metal furniture pieces you may be used in order to protect them from vandalism.
7. Check the stability of your chairs and tables before you use them. Make sure that there are no missing screws or bolts, and the feet of the furniture pieces should be firmly attached in order to prevent them from toppling over.
If possible, invest in weather-proof covers for your furniture items so you can keep them safe from rain, sun, and other harsh elements.
Make sure that the furniture pieces are securely attached to each other if you are using multiple items, such as chairs and tables. This will prevent any of them from falling over or collapsing if someone leans on it too heavily.
Finally, check for any sharp edges or protruding parts that may cause injury to anyone who uses the furniture. If you find any, use sandpaper or a file to smooth it out, so no one gets hurt.
By following these safety measures, you can ensure that your outdoor furniture is safe and secure for everyone who uses it. With proper care and maintenance, the patio furniture pieces will last for years to come!
Frequently Asked Questions
How to Take Good Care of the Patio Furniture?
To make sure that your patio furniture remains in good condition, you should clean it regularly with mild soap and warm water. You should also apply protective sealant or varnish to protect the furniture from weather damage.
Additionally, you should keep an eye out for any structural problems that may arise due to wear and tear over time. If you notice any of these issues, be sure to take care of them promptly. If the furniture is made out of metal, make sure that you use products specifically designed for cleaning and protecting metal surfaces.
Finally, store the furniture in an area where it won't get damaged by wind or rain. This can help extend its lifespan.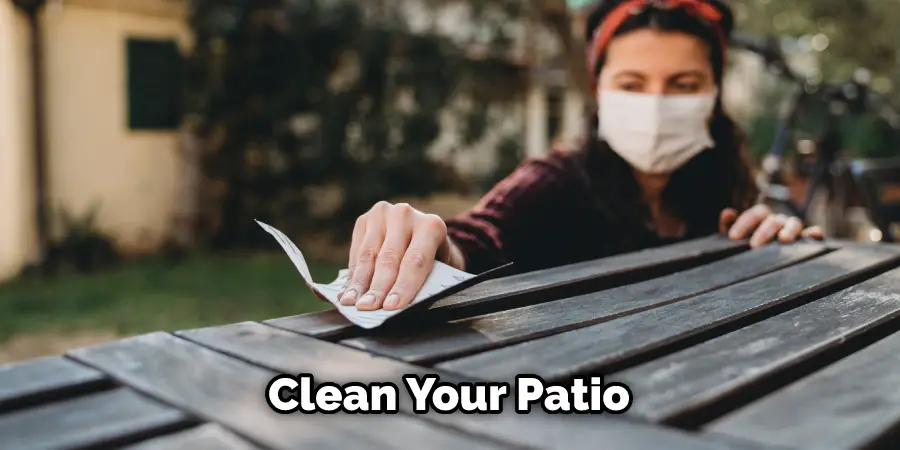 Can I Mix and Match Different Types of Patio Furniture?
Yes, you can certainly mix and match different types of patio furniture. However, be sure to take into consideration the construction material and weather-resistant features before you purchase any pieces. The combination should complement each other both in terms of design and durability. 
Additionally, use safety belts for chairs with arms if you are using them to entertain small children, and make sure that the furniture pieces are securely attached to each other if you are using multiple items. Finally, check for any sharp edges or protruding parts that may cause injury to anyone who uses the furniture and smooth them out as needed.
Conclusion
After reviewing the dos and don'ts of mixing and matching patio furniture, you should be equipped to tackle the challenge! Remember that when choosing your pieces, it is important to contemplate the overall effect. One way to get a cohesive look while still offering variety is by picking items with complementary colors and patterns. 
Pay attention to the materials used in each piece to ensure that they fit together nicely.
Most importantly, have fun with this process! Mixing and matching patio furniture can be an enjoyable exercise in experimenting with new styles and forms that can help you create a space that perfectly expresses your taste and lifestyle. Follow this guide on how to mix and match patio furniture to do it more easily.